Zongzi or sweet rice cake in English, is a traditional food in China. In my home town, Guangxi province, located in the south, Zongzi is made into a large size, weighed from half pounds to more than 30 pounds. It is made from Phrynium leaves which is quite popular locally. These leaves are wide, flexible and tough which are great to use for wrapping food. After cooking for long time, Phrynium leaves release very special and natural fragrance into the food.
Our Zongzi is simply made from fully soaked sweet rice, peeled mung bean and pork with fat. Tightly wrapped with Phrynium leaves and boiled in water more than 8 hours until the pork, bean, sweet rice and the fragrance of Phynium leaves all melt together. Guangxi Zongzi's flavor lives in many Guangxiese's memery and impresses many other people who have ever tasted it.
Wrapping Guangxi Zongzi requires some skills. It was actually considered to be one of the most important skill for a young girl in my hometown. It is like a "test" to see if a young girl is capable or not. My mother is one of the most skilled Zongzi wrapper in our village for many years. She can always wrap the perfect shape and various sizes of Zongzi. Zongzi is often to give out or exchanged as gift in Chinese New Year. So a well-wrapped Zongzi always receive a lot of compliment.
My mother is washing Phynium leaves.
I had been growing up watching my mother wrapping Zongzi every year at the first day in Chinese New Year. Mother encouraged me to wrap Zongzi by myself since I was in elemental school and taught me hand by hand for several years. It was hard and confusing for me at that time so I always screwed it up. I had never been able to wrap a Zongzi in a reasonable shape. Mother was so worried:" If you cannot wrap Zongzi, nobody will marry you when you grow up…"
My sister-in-law is wrapping Zongzi
My sister-in-law's Zongzi is very pretty!
Lucky me. I graduated from high school and earned the opportunity to get college education in a very good university in China. After that, I got a job working as a Chemical engineer, later got married, moved to US and have my own family. So I do not need to worry about wrapping a good Zongzi so I could find somebody to marry to.
Living far far away from hometown is not easy. My loyal Chinese stomach reminds me everyday the delicious foods I had in China. So I spend a lot of time digging into all kinds of recipes and try to copy the flavors I used to enjoy.
Guangxi Zongzi is on my must list especially around Chinese New year. I couldn't find any Phrynium leaves here but I do find frozen banana leaves in Asian grocery store. Banana leaves is not quite big and tough enough to wrap big Guangxi Zongzi. But after experimenting a couple time, I finally successfully put together a Zongzi which my mother said she would pass me as a qualified Zongzi wrapper *_- Of course, she was just joking…
My Zongzi 2016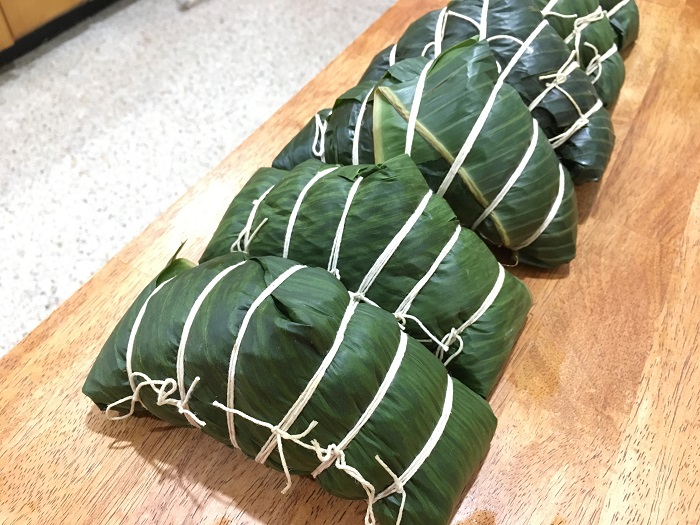 My Zongzi 2017
My Zongzi is around half pound which is enough for me to eat twice. After boiled in water for about 7 hours, the pork, mung bean and rice are very soft. Peel the leaves and dig a fork in. I can eat half of it.
Mung bean and pork were expensive when we were kids. The most yummy Zongzi is always filled with a lot of Mung bean and pork. So I am very generous with my bean and pork.
The rest of the Zongzi after cooled off, keep them in refrigerator. They are good for several weeks. They become hard in cooler but just pop in microwave for several minutes, they are hot and soft again. Or my favorite way is to slice it into thin piece and fry them in a pan slowly until both side golden brown. It smells great and tastes wonderful!